Welcome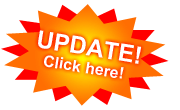 INT. IT. EUR. CH DRAGONJOY JESSICA RABBIT
(Bea)
NEW American Champion
Reserve Winners Bitch
PWCCA National Specialty 2013
(St Louis - USA)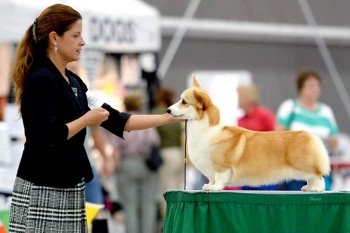 INT. LUX. RUS. GRAND RUS. HUN. CZ. SLO. EST. UKR. BALTIC
CH DRAGONJOY SOME BUNNY TO LOVE
(Bailey)
NEW American Champion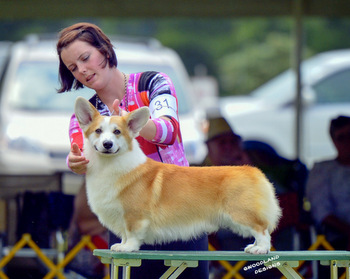 CH. DRAGONJOY BUNNY HOP
(Bella)
American Champion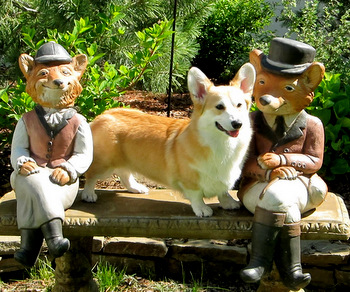 CH. DRAGONJOY NEW GIRL IN TOWN
(Wendy)
American Champion
Grand American Champion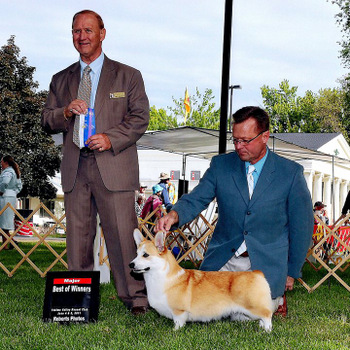 AM CH. AUBREY'S RIVER OF LOVE
(Roxie)
European Junior Champion 2011
Italian Junior Champion
American Champion
Multi BIS Puppy Winner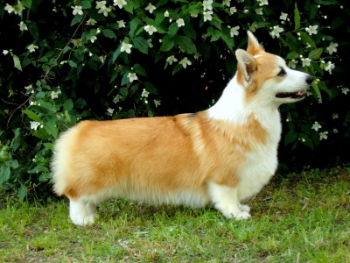 BIS. EUR. INT. IT. LUX. SMR CH DRAGONJOY GLORY OF THE SUN (Sheila)
World Champion 2011
European Champion 2010
FCI Centenary Show Champion

IT. INT. CH. DRAGONJOY NEW STAR IS BORN
(Allyson)
European Champion 2011
European Junior Champion 2010
FCI Centenary Show Champion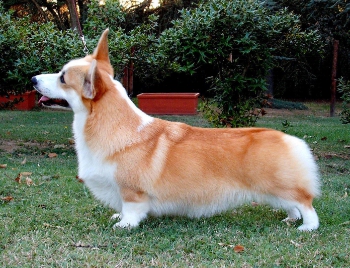 BEST BREEDING GROUP
EUROPEAN DOG SHOW LEEUWARDEN 2011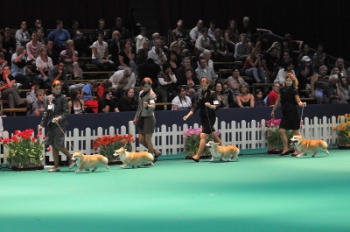 MULTI CH. DRAGONJOY NEW IDOL
European Junior Champion 2010
Pluri GROUP Winner
Pluri BIS PUPPY & BIS JUNIOR Winner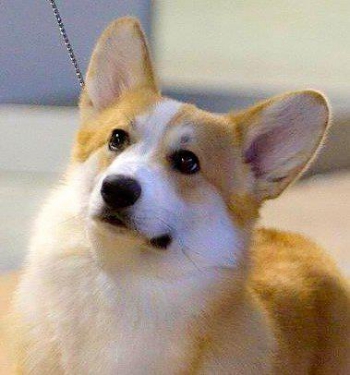 AM. EUR. INT. IT. CROAT. SMR. SWE. RUS. ES. LIT. LATVIAN CH.
RED BARON
World Veteran Winner 2012
Multi BIS Veteran Winner
American Champion
European Champion

Benjamin's Show results in USA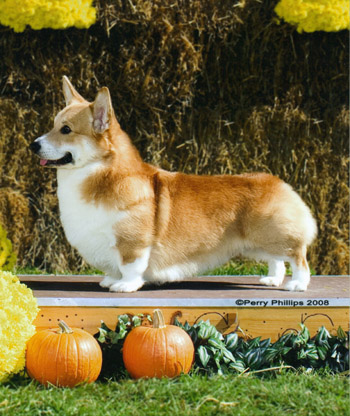 (sired by Multi Ch. & Multi BIS DRAGONHEART x It. Int. Ch. SHAVALS FIRE DYNASTY)
Breeder : Chiara Ceredi (DRAGONJOY CORGIS)
Owner: Anna Kuznetsova (STYLE LIFE CORGIS - RUS)

MULTI BISS & BIS AM. CAN. CROAT. SMR. IT. INT. SK.
CH. AUBREYS FOREVER N FOR ALWAYS
WORLD CHAMPION 2009
(Am Ch. Dwynella Take A Chance x Aubreys Oakwind Abbey Road) pedigree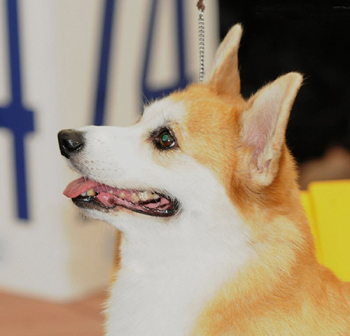 BISS. ENG. CH.
DOUBLE RED DRAGON AT WOODHENGE
"KEVIN" pedigree
English Champion
Top Pembroke 2007 in UK
Res. Best Dog - Crufts 2008
Top Pembroke Male 2008 in UK
is pictured on the front page of the
"UK KENNEL GAZETTE" - September 2009 !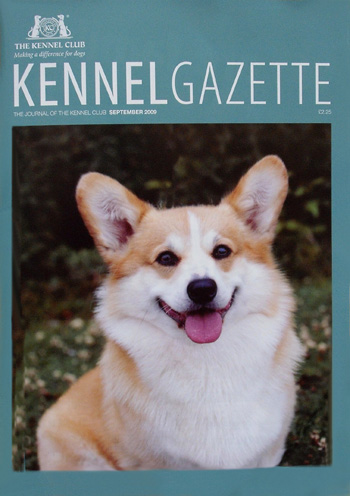 14 x CC, 10 x Res. CC, 12 x BOB, 2 x Group # 1st, 1 x Group # 2nd, 3 x Group # 3rd, 2 x BISS
4th TOP PASTORAL DOG 2007 (UK)
BEST IN SHOW WINNER at the WELSH CORGI LEAGUE SHOW 2009 in UK
BEST IN SHOW WINNER - WELSH CORGI CLUB SHOW 2007 (UK)
Breeder: Chiara Ceredi (Dragonjoy Corgis)

IT. INT. SMR. CH. DRAGONJOY FALL FROM A STAR (It. JW)
"SPANK" pedigree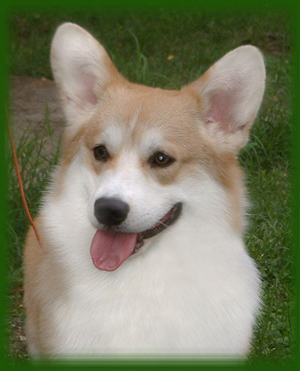 CAC, CACIB, BOS - EUROPEAN WELSH CORGI SPECIALTY 2009 (France)
BEST OF GROUP WINNER
CRUFTS QUALIFIED
CAC - WINNER in OPEN CLASS - WORLD DOG SHOW BRATISLAVA 2009

MULTI BIS & MULTI CH. DRAGONHEART
"WINNIE POOH" pedigree
Top Dog All Breeds 2007 in Italy
Res. Best Dog - Crufts 2006
BIS Winner - European Show 2008 (click here)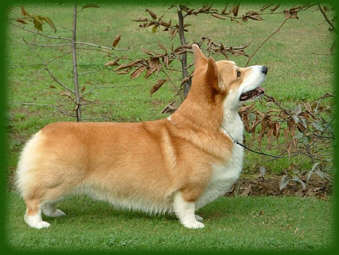 Finalist EUKANUBA WORLD CHALLENGE 2008 - Long Beach, California (click here)

Our Corgis :

Pembroke Welsh Corgis are bright, loyal and versatile dogs and adapt themselves to any routine as if they were born to it.
They are big dogs in a small package.
They are extremely intelligent and do the best when they understand the rules. They love learning and for this reason they're easy trainable.
Their expression is alert and intelligent.
Their keen perspicacity and trainability served them well as they perfomed a variety of tasks (around the homestead) and they need for a "job" to use their active brain constructively.
Their natural guarding tendency adds much to their personality, too.
Their charm springs from a combination of temperament and physical soundness that makes them SPECIAL dogs.
It's a real joy to share our own life with these perfect all-around dogs that belong, according to the legend, to the magical world of the "fairies and elves".
Dragonjoy is a small hobby kennel who strives to produce high quality Pembroke Welsh Corgis with balanced personality, sound construction and workmanlike movement.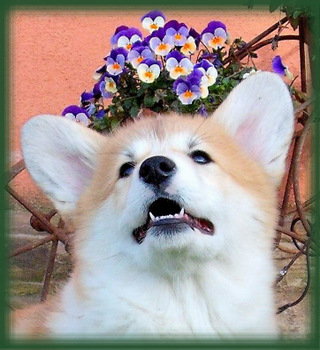 (C)2006-2014 Dragonjoy Corgis - All Rights Reserved
Please, remember that all photos and content on this site are copyright protected and may not be copied or used elsewhere.